Andean plants become art at Virgilio Martinez's Mil.
Written and shot for National Geographic Traveler Magazine April/May 2019 with support from the National Geographic Society.
A smiling Claudia Corihuman prepares a birthday party for her mother (seated left) in Kacllaraccay, Peru.
Gregory Corihuman clears weeds from a field of fava beans in Kacllaraccay, Peru.
Gabriel Velasquez serves a pachamanca lunch in the organic garden at El Aubergue in Ollantaytambo, Peru.
Cusco's name roughly translates from an Incan word as "navel" or "center."
A biscuit made of tarwi at Mil puts an ancient Andean grain in the center of the plate.
The circular terraces of Moray remain mysterious. The Inca may have sued the side for agricultural experiments, testing various crops at each level's microclimate.
A tourist takes a picture with the famously intricate twelve-angled stone that's part of an Incan foundation in Cusco, Peru.
A pork belly dish is one of eight "moments" at Mil, near Moray, Peru.
Building on the success of his first restaurant, Central, Virgilio Martinez opened Mil in 2018 to showcase traditional Andean ingredients.
Mil's design and menu bring the mountains into every moment at the restaurant.
The main dining room at Mil.
Fried cheese is part of a "moment" at Mil.
Mil makes chocolate in-house, using Andean cocoa beans.
A researcher at Mil is experimenting with dehydrating different ingredients.
Potatoes are naturally freeze-dried to make chuno in Kacllaraccay.
Claudia Corihuman squishes potatoes with her feet, letting them freeze-dry into chuno in Kacllaraccay.
Quechua women plate potatoes and guinea pig for a Fathers Day feast in Kacllaraccay.
A Quechua woman makes dinner in Kacllaraccay.
Claudia Carihuman tends a sod huatia oven where she will roast potatoes and fava beans.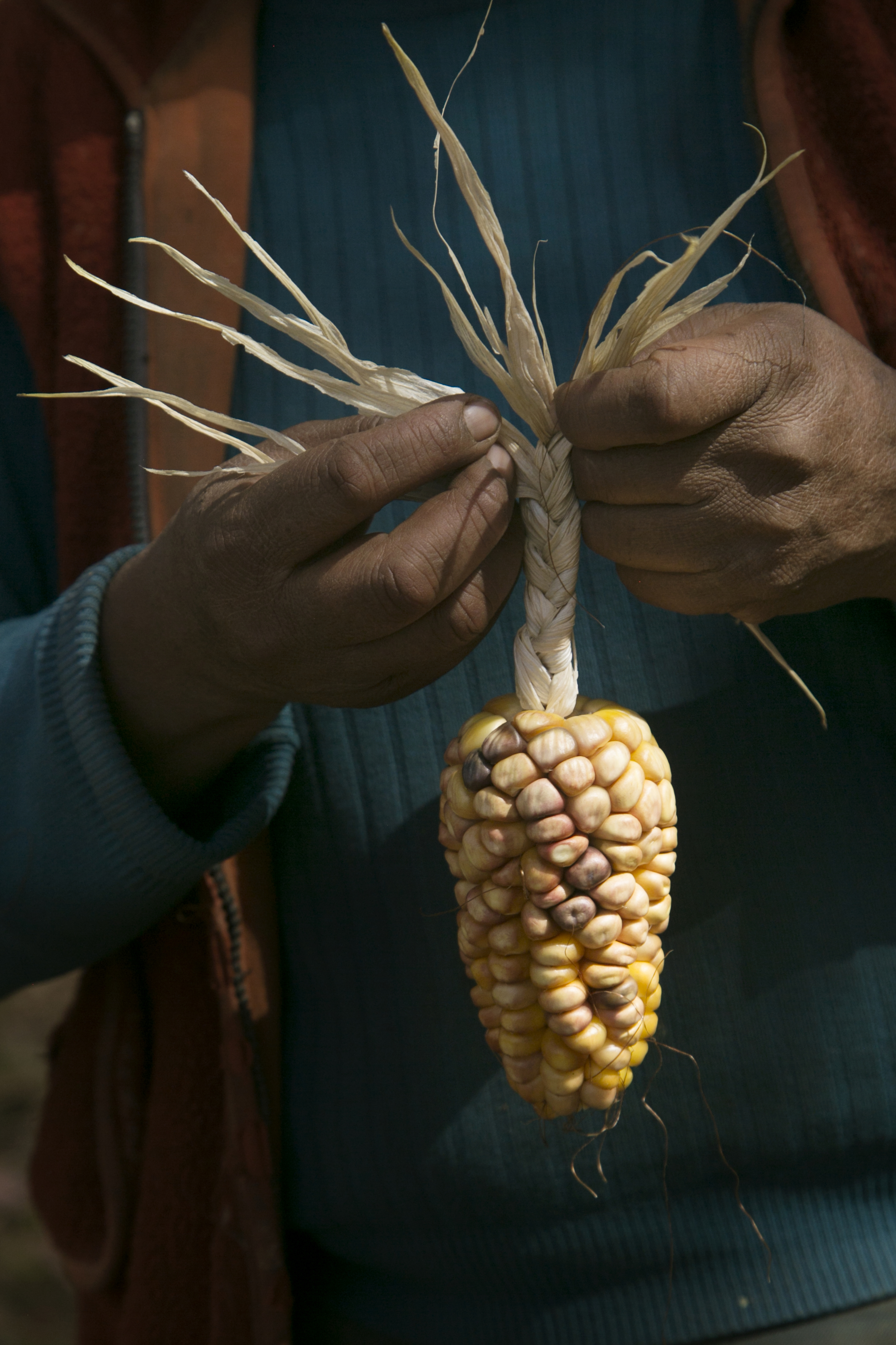 Claudia Carihuman braids a corn husk so that she can hang and dry it.
Nellie clears weeds from a field of fava beans in Kacllaraccay.
Nellie Carihuman and her mother in Kacllaraccay.
Claudia Carihuman walks through the fields in Kacllaraccay.
Francisco D'Angelo, staff anthropologist at Mil, joins a huatia meal in Kacllaraccay.
Villagers from Kacclaraccay take their produce to market in Urubamba.
Potatoes for sale at the Urubamba market.
A festival day in Kacllaraccay.
Tourists walk through the Inca terraces of Ollantaytambo, looking across to ancient granaries on the hill. The Inca won a victory against the Spanish by fortifying the town and flooding the valley.
A waiter sets the table at Inkaterra's Hacienda Urubamba.
Haresh Bhojwani sets up a still at his Destileria Andina where he's revolutionizing canazo rum.
Experimental canazo macerations at the Destileria Andina, including extractions of fish from Lake Titicaca and of cheese.
Chicken cooked in a pachamanca oven at El Albergue in Ollantaytambo.
Inkaterra Hacienda Urubamba
Tourists prepare to board the train to Machu Pichu in Ollantaytambo.